Crystal Wine Red DIY Paint Colors on Electra-Glide
"07 HD Electra glide with 3 coats of crystal wine red candy. I love your product and will continue using it on future projects. I can't wait to try some of the new products you have listed on the site.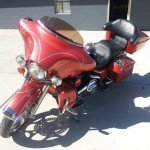 All testimonials are the opinions of our customers, and are not to be perceived in any other way.
About Author